Note: This is a step by step guide on how to buy Ethereum on an exchange so you can get ready to become an L-Pesa supporter during our Pre-ICO / ICO
In this article we will focus on how to purchase Ethereum (ETH) on a cryptocurrency exchange. On exchanges you are able to purchase cryptocurrencies with a fiat currency (USD / EUR / GBP). If you are at this stage you have already created your wallet. If you haven't, you can click here to read our guide on how to create a crypto wallet (Link to the first article).
We decided to use Coinbase in this guide because it is quick, simple, has a great customer support service and also is one of the most popular exchanges. Saying that, there are multiple exchange websites where you can purchase cryptocurrencies from (Some examples are  Binance or Kraken). It is worth checking to see if the website supports the country you are residing in, if not you cannot use Coinbase, you can use Binance, Kraken or another crypto exchange as they follow a similar sign up procedure.
Please also note that because of the increasing interest in digital currency trading, the exchanges could be temporarily unavailable on some days. Do not worry if this happens, your money is still safe even if the website is unavailable. Also the verification process can take a few days so please be patient, this is down to the ever increasing interest around cryptocurrencies.
Step 1
Firstly, you will need to create an account on Coinbase and verify your account. To start this process, go the website https://www.coinbase.com/ and enter a email address you want the account to be connected to, after entering your email address click "get started". Please make sure again you are on the correct website.
After you have clicked on  "get started" you will taken to the page that is below, enter your details (Your first name, last name and a password) and click "create account" to proceed. Please make sure the name you are using is the one that is on your debit / credit card. Once you click "create account" an email will be sent to your address which needs to be opened to verify your email address.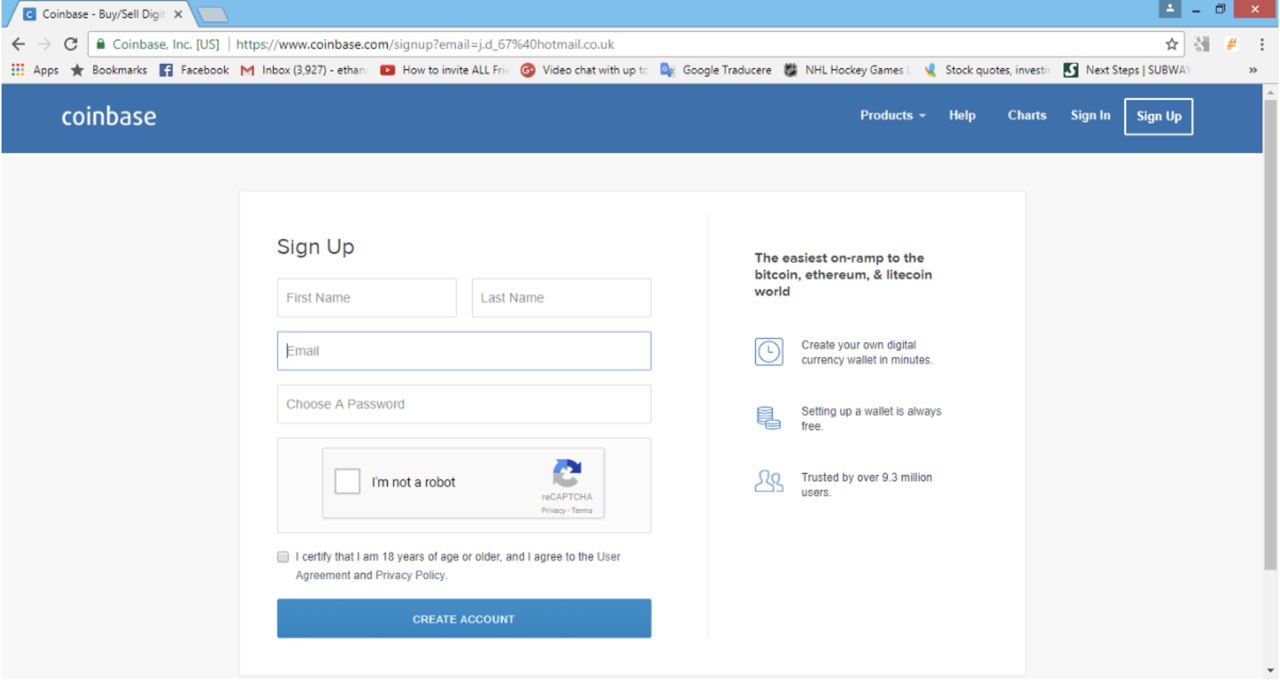 Once you have verified your email address, you will have to verify your account. It is a simple procedure, but it can be time consuming. For this you will have verify your phone number, provide an ID with an image, and send a confirmation payment. Simply follow the on screen instructions.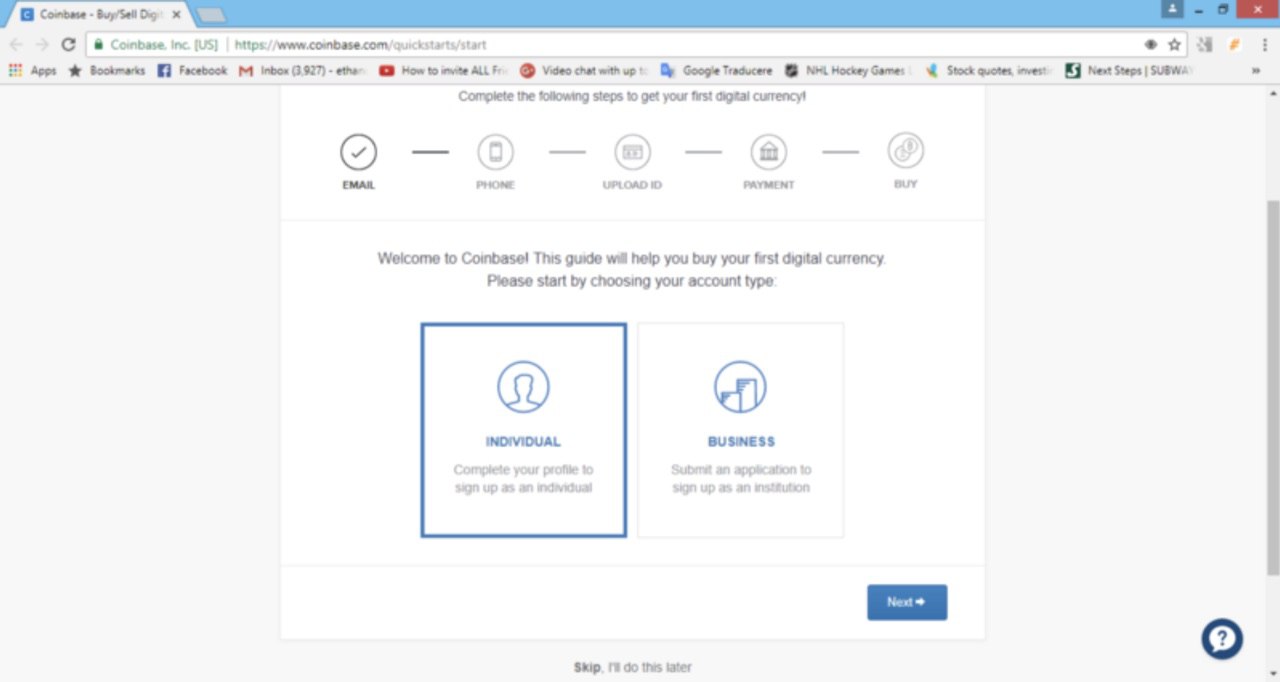 It is quite common to have a few issues during this process, this is due to high levels of security. If your ID gets rejected, use a different ID. One of the reasons we picked this site was because of the great customer service they provide. If you have any issues you can go Coinbase support portal or get in contact with them.
Depending on the country you are situated it, you can buy digital currency using either a credit card or a bank account transfer. Using a credit card is faster, but we suggest adding a bank account, so can withdraw your funds to your bank account in your local currency. For this guide, we will focus on a bank account transfer, but a credit card is a very similar procedure.
Step 2
Once your account has been verified you are ready to purchase some crypto. To get started you will need to fill your local currency wallet, which will appear under your account if you have added a bank account from a supported country. Sign in to Coinbase, click on the "Accounts" tab and look for "USD Wallet" or "EUR Wallet".Please think about what account to select, as there can be complications if you are account is US, please select a US account for example. For this example we will select a "EUR Wallet."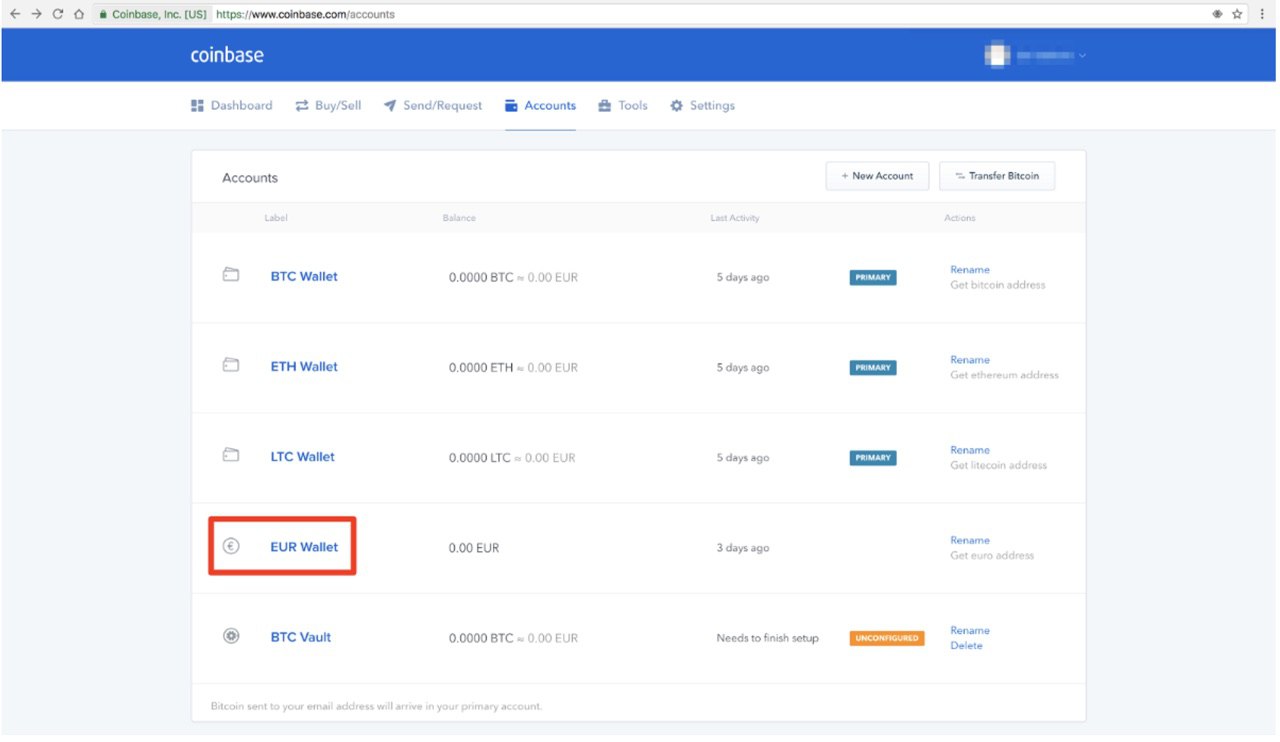 Select your EUR wallet, the next page click the icon "Deposit" that is located on the right side of the wallet. When you click this, a pop up will appear and will show you all the details of your Coinbase account (this is where you will be depositing your local currency, so you can purchase a digital currency). Please enter your bank details, Once you confirm this and you bank processes the transaction, you are ready to purchase!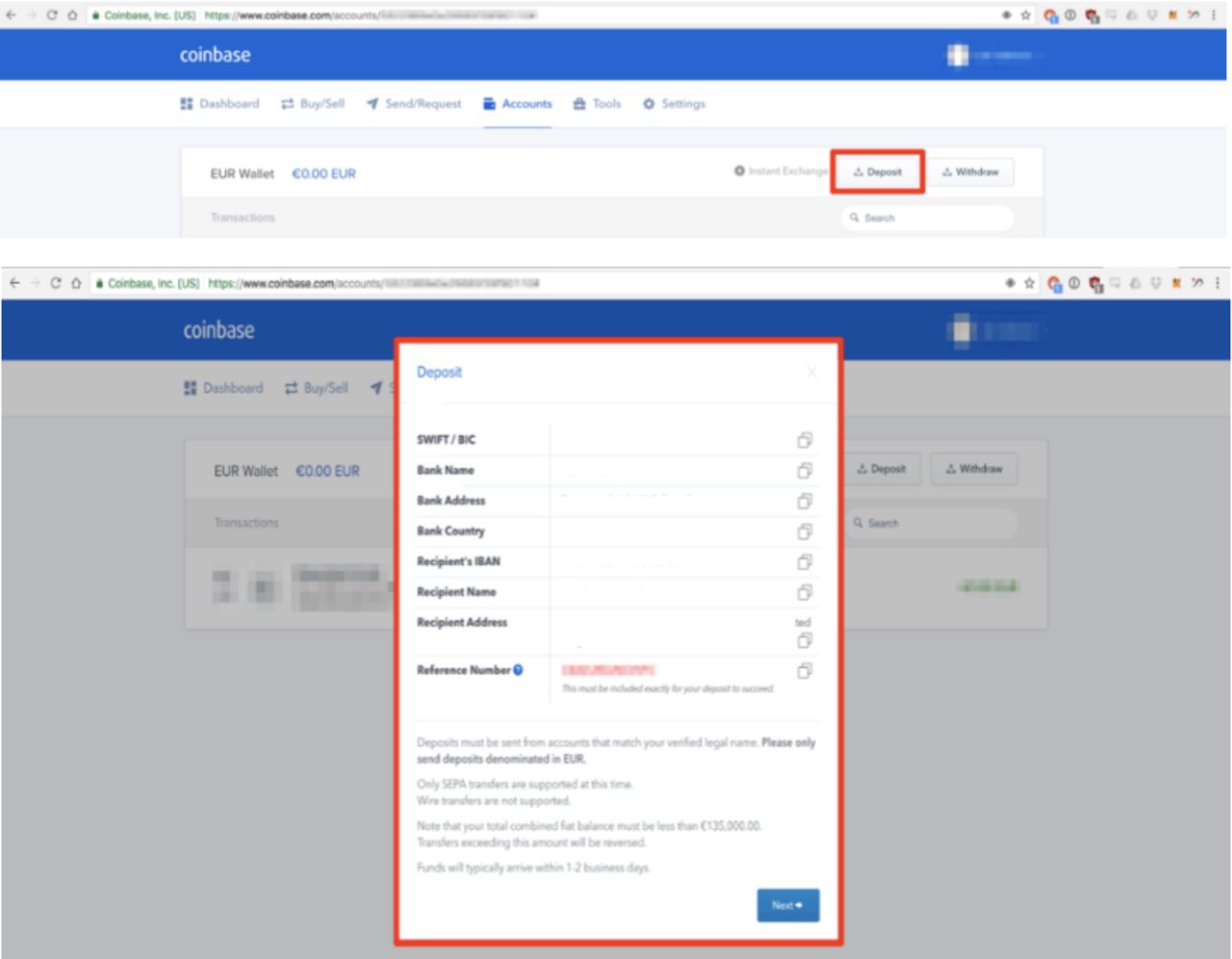 Once your wallet has been filled with your deposit, click the "Buy/Sell" tab. Select "Ethereum" as the currency you wish to purchase, choose your wallet as the payment type, and then select the amount of ETH you wish to purchase. Once you have selected all the correct items, click on the "Buy Ethereum Instantly" button and confirm your order on the following page.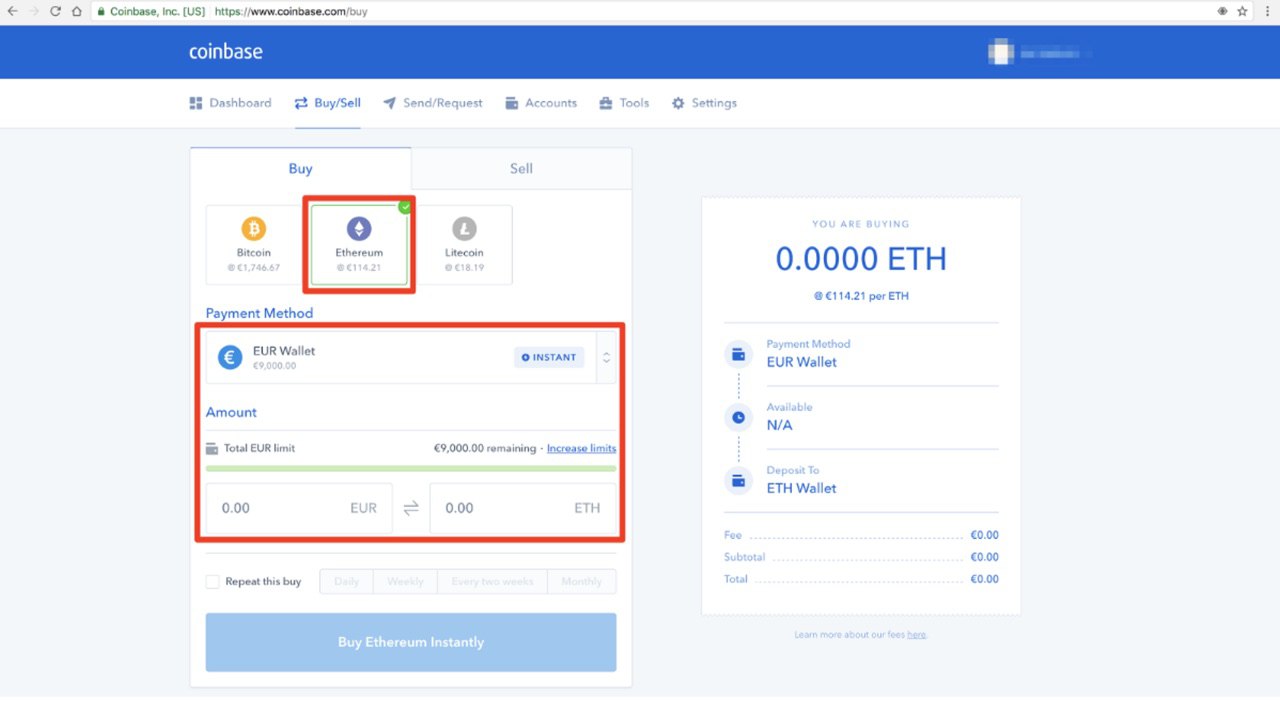 Step 3
Once you have purchased some Ethereum in your Coinbase account, it is time to send your digital currency to your own crypto wallet (The one you created in the last guide) Click on the "Send / Receive" tab open a pop up form allowing you to send funds.
On this pop up, copy your public account address from your personal crypto wallet. In the amount section, enter the amount you wish to transfer from your Coinbase account to your wallet.
We would suggest that you double / triple check that you have the correct public address, as it is a long line of numbers and letters in both uppercase and lowercase, and getting this wrong will send it to another account or it will not work.
When the transaction is completed, your purchased Ethereum will appear in your wallet. If you followed our first part and created a wallet on MyEtherWallet, you can check your balance by clicking on "View Wallet Info". You will have to unlock your wallet again by typing in your Keystore file and password.
Well done! You now have some Ethereum in your created wallet and you will be able to use your new digital currency to become a supporter of L-Pesa!
If you are having any issues please feel free to contact us on our Telegram channel.